This article may include affiliate links, implying that I could earn a commission for transactions. As an Amazon Associate, I may earn from qualifying purchases made through these links. For additional details, please refer to my Privacy Policy page
If you're wondering what the best burger in Nashville is, you have come to the right place!
One of the reasons we LOVE Nashville is the diversity of food options. While Nashville is known for hot chicken, we believe the burger scene is often forgotten. Nashville has some amazing burgers, and we continue to find new spots every few months. Because of that, we wanted to highlight our top 5 favorite burger joints (in no particular order, and in our opinion).
1. M.L. Rose
About
M.L. Rose began in 2008 in the Melrose neighborhood by native Austin Ray. According to their website, their goal was to create a relaxing environment with burgers and craft beer. As a result, it is one of our favorite spots to take family and friends when they visit. Currently, they have 4 locations, each themed with fun, unique murals, including their signature M.L. Rose owl.
Over the last few years, we have also found that M.L. Rose is a great spot to catch a Predators or Titans game, as there is no shortage of TVs in and around the restaurant. Also, if you happen to be at the original Melrose location (our favorite), then make sure to check out the outdoor patio area with fun games and a fire pit.
The burger
The burgers are flat-top cooked with a smash burger look and feel. One of our favorite burgers is the NashVegas Burger, which is sadly unavailable year-round. If it is available, we definitely recommend getting it! It is complemented by a sweet potato bun with barbecue sauce, rich pimiento cheese, and crispy tobacco onions.
Another year-round favorite of Kush's is the Sgt Pepper Burger which has two smashed patties, habanero jack, serrano-bleu cheese, grilled jalapeño, chipotle ranch, onion, and tomato. You will definitely need some tums after this one!
Finally, if you're unsure what to try, you can order the burger of the month. At this time, the burger of the month is the Porter Road Smash Burger. Unquestionably it will satisfy most cravings with its 14-day dry-aged, pasture-raised beef patty served on Martin's potato roll.
2. Jack Brown's Beer and Burger Joint
About
Although Jack Brown's is not local to only Nashville, it is one of our favorite spots located in the Germantown area. Jack Brown's is founded by two old friends who spent the early part of their lives skateboarding and collecting old beer cans (sounds fun to me). Their dreams finally came true in the late 2000s when they opened their first restaurant in Harrisonburg, VA.
After the success in Harrisonburg, they soon branched out throughout many metro areas throughout the US.
Jack Brown's is known to display unique and fun artwork throughout but with a unique twist, for example, the bras hanging from the ceiling or the giant stuffed shark.
The burger
The burgers are 100% wagyu beef, sourced from a family-owned and operated farm in Boise, Idaho. One of our favorites includes the Shocker Burger, which is made with fresh jalapeños, habaneros, pepper jack cheese, and "shocker" sauce.
Another favorite is the Cowboy Burger, made with homemade BBQ sauce, applewood smoked bacon, and cheddar cheese. We plan to try the Cobra Kai and the Elvis burger sometime this year.
Finally, our favorite part about Jack Brown's is the extensive beer menu. It allows you to pair any beer style (domestic and international) with your choice of burger.
3. Grillshack
About
Grillshack is founded by two locals of East Nashville, Steve, and Susan Richter. Initially, they started with a small food truck that only hand-cut french fries. Because of their gaining popularity among those in East Nashville, they decided to open up a shack on Riverside Drive. They continue to make delicious burgers at this new location, with a good outdoor seating area.
We love that Grillshack is literally a shack that reminds you of being a child again and eating a greasy burger on the beach.
Additionally, the owners have recently expanded to a new location in Germantown. This consequently makes for a great pit stop before hitting up the nearby honky tonks.
The burger
Grillshack is about something other than fancy craft burgers with extensive toppings. For example, they pride themself on serving a classic grass-fed burger with simple yet elevating toppings and amazing hand-cut fries (our favorite in Nashville).
The beef is locally sourced from Bear Creek Farm. The standard burger combo is served medium with fresh ground pepper and muenster cheese on a grilled charpier's bakery roll. Finally, we recommend adding grilled sweet onions and hickory smoked bacon to their burgers!
Vegetarian? The Impossible Burger is a must-get with a vegetarian patty on a grilled Charpier's bakery roll.
4. The Pharmacy Burger Parlor & Beer Garden
About
Suppose there needed to be more excuses to visit East Nashville (unlikely, right!?). If you do, the original Pharmacy Burger is another must-stop when visiting East Nashville. There is a reason they have won many awards, and many feel it is the best burger in Nashville.
Pharmacy Burgers' motto is "medicine for the soul," and that's immediately evident when you walk into the throwback parlor-style malt shop. Their old-time fountain soda or ice cream soda will cure any ailment. Our personal favorite flavors are creamsicle, strawberry ginger, and egg cream. As a bonus, you can also enjoy a selection of german style franks (Wurstchen) and beer in the outdoor Biergarten.
Pharmacy has recently opened up a new location in the Assembly Food Hall, which serves as the perfect meal before tackling on Broadway and Downtown Nashville.
The burger
Our favorite part of any Pharmacy burger is the potato bun. For some reason, it just adds so much to the flavor!
The White Oak burger is one of our favorites, with house-made Coca-Cola BBQ sauce, smoked onions, provolone, bacon, and crispy onion straws. Additionally, if you want to step outside your comfort zone, try the Stroganoff Burger with mushroom stroganoff bechamel. Finally, we order hand-cut sweet potato fries with every burger and a Belgian-styled beer!
5. Dino's
About
Dino's wins the award of East Nashville's (and likely now Nashville's) oldest dive bar. It has remained similar in looks, style, and atmosphere since it opened in the 1970s (still that same Formica bar). Dino's is an example of the juxtaposition seen all throughout East Nashville, with its grunge undertones surrounded by bougie coffee shops.
The Tennessean notes that new owners had pressure from locals to keep the building and dive bar vibes the same. What they created has now been featured in multiple magazines across the U.S., including Southern Living Magazine and Bon Appétit.
Importantly the best part of Dino's is that it is affordable compared to other bar and burger joints around town, which is likely why the locals keep coming back. Definitely make sure to get there early as we have seen the line stretch out far past the door, with the burgers waiting past 2 hours.
The burger
Walking into Dino's, you can smell the juicy burgers cooked over a flat top that is likely over 30 years old. I think that flat top, with years and years of juicy burgers being cooked over it, adds to the unique and delicious flavor. The burger is simplistic, with cheddar, lettuce, tomatoes, onions, and pickles.
You can also take your burger to the next level by adding bacon, avocado, and egg, and our favorite, adding animal sauce to the burger and french fries! Also, if Anthony Bourdain went there to enjoy a burger, you know it must be special.
Not a burger fan? Well, they have an amazing hot chicken sandwich and the Veggie Beyond Burger for those non-meat eaters. Nonetheless, you can count on Dino's to provide a fantastic burger today, tomorrow, or forty years from now.
6. Stock & Barrel
About
Nestled within the vibrant heart of Nashville, Stock & Barrel emerges as a culinary gem, where the art of burger craftsmanship converges with the world of fine whiskey. Stock & Barrel showcases an unwavering dedication to exceptional quality and locally-sourced ingredients.
Their menu is a symphony of taste, offering both classic renditions that evoke nostalgia and inventive concoctions that challenge the boundaries of traditional fare. With every bite, guests embark on a journey of flavors, where each ingredient is meticulously chosen and thoughtfully combined to create a harmonious dining experience.
The burger
The beef at Stock & Barrel is an all-natural and hormone-free house brisket blend. Each burger is served on a specialty flour-dusted bun from Flour Head Bakery. Among the cherished picks from the locals, the Bernie burger stands out as a delightful fusion of sweet, salty, and spicy notes, harmonizing flawlessly on the palate.
Kush's choice was the "Hurt Locker" – a substantial burger featuring a generous layer of pimento cheese and a sizeable fried green tomato. This burger's components melded seamlessly, creating a harmonious blend of flavors and textures. Notably, the fried green tomato emerged as the star topping, leaving a strong and favorable impression.
For those who prefer non-meat options, the ultimate veggie burger experience awaits! The black bean & quinoa burger and turkey burger both took me by surprise with their delectable flavors.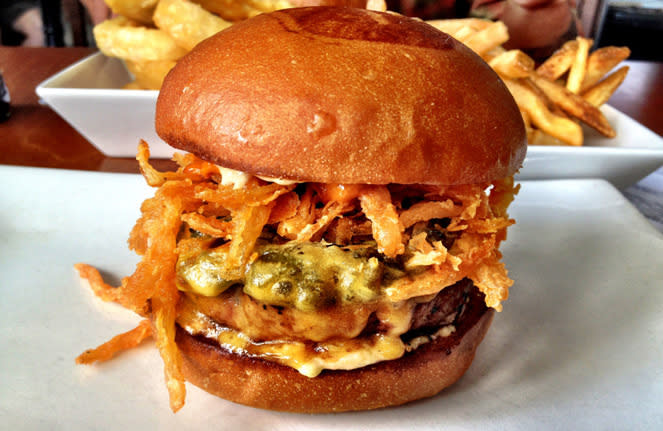 So, where is the best burger in Nashville?
While Nashville is known for everything from pedal taverns and boozy brunches to hot chicken and murals, its burger scene often gets overlooked.
You may discover the best burger in Nashville might not be on this list. These are just some of our personal favorites. Every month we discover a new burger joint that we love. The best part is all of the places mentioned are a short distance from our luxury properties!
Let me know in the comments below what your favorite burger joint is in Nashville, and please subscribe for more!