This article may include affiliate links, implying that I could earn a commission for transactions. As an Amazon Associate, I may earn from qualifying purchases made through these links. For additional details, please refer to my Privacy Policy page
So where are the best donuts in Nashville?
Although Nashville is known for its hot chicken, we believe that the donuts in Nashville can keep up with the best of them.
No matter if you're planning a bachelorette party, a trip with friends, or a family visit, we highly recommend checking out at least one of these donut spots.
Similar to our post on the top 5 best burgers in Nashville, these spots are in no particular order.
Donut Distillery
Humble roots
Shauna McCoy, the heart and soul behind Donut Distillery, began her journey by making mini donuts that evoked fond memories of her enjoying donuts with her dad at the Albuquerque Balloon Fiesta.
Starting from a small food truck, Donut Distillery quickly gained a devoted following in East Nashville. This soon led to the establishment of a brick-and-mortar store in the heart of East Nashville.
A fantastic spot for a bachelorette outing
Shauna realized what was missing at the time was a donut spot that offered a true experience. The idea to pair craft donuts, with alcohol, boozy shakes, and craft coffee took off.
If you're planning the ultimate bachelorette weekend, we highly recommend Donut Distillery.
The location in East Nashville has plenty of photo-op areas and a great outdoor seating area to enjoy your treats on a hot Nashville sunny day.
Our favorites
The Whiskey Glaze, made with real Tennessee whiskey, is a must-try and one of their original signature donuts. Recently, we took Ana's parents to try out all the donuts, and Kush's favorite was the Frosted Fruity. Ana couldn't resist the Sweet Swine with Maple Forsting & Bacon Bits.
Although we didn't have a chance to try it this time, the mimosa pairing flight is one of our favorites.
Finally, don't forget to try their boozy shakes! Some great ones include the Sunrise made with Dreamsicle Donuts and Tequila and the Fire in the Hole featuring Cinnamon Sugar Donuts and Cinnamon Whiskey. The drinks are strong so make sure you have a designated driver or if you planned your event with one of our preferred partners, you will already be set up with a ride-share to take you to the next great spot.
Five Daughters Bakery
Family-owned and operated
Another family-run business, Fiver Daughters Bakery has some of our favorite donuts in Nashville. They are famous for having the 100-layer doughnut which takes three days to make. It is a cross between a donut and a croissant (a cronut). Five Daughters has gotten so big that they even have their own Wikipedia page!
Five Daughters is co-owned by Isaac and Stephaine Meek, Franklin, TN natives who founded the business in Nashville in 2015. The idea is the result of their desire to break free from the corporate world and dedicate more time to their passion for baking and family.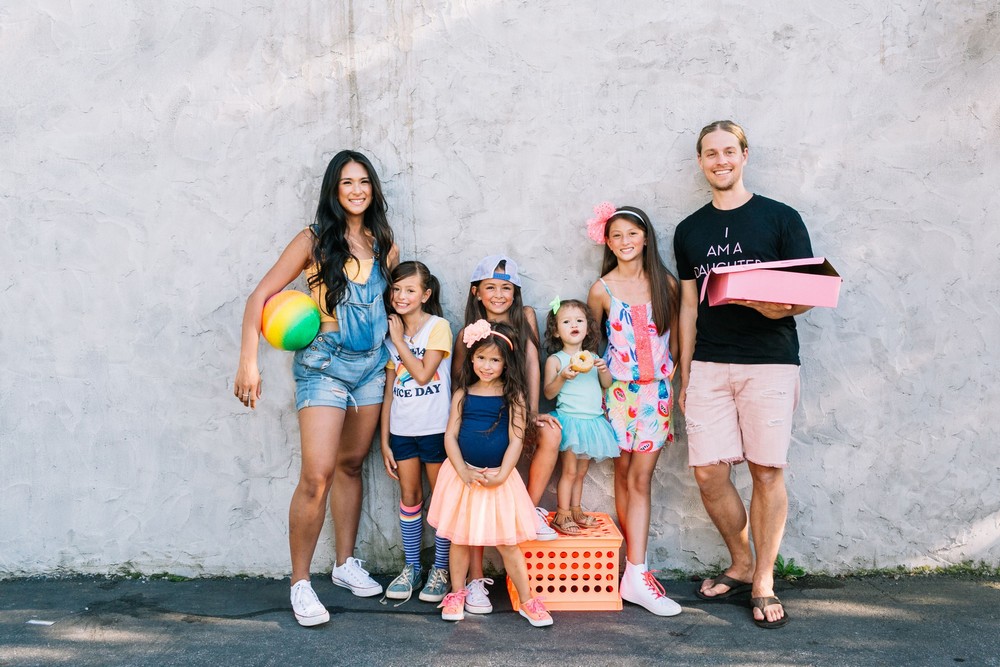 The love for baking runs deep in the Meek family, with Isaac being a third-generation baker. His grandfather owned a popular pizzeria, and his great-grandfather owned a cake shop.
Why we love Five Daughters
It's no surprise that Five Daughters is a top destination for bachelorette parties with its charming pink-themed decor, social media-worthy setup, and adorable merchandise. We recommend it be one of the first stops on any trip into the 12 South neighborhood.
Adding to their charm, Five Daughters' name pays homage to the owners' five daughters, Dylan, Lucy, Maggie, Evangeline, and Constance.
Delicious flavors that will have you coming back
There are so many delicious flavors to choose from! Kush's personal favorite is the King Kong, featuring maple bacon for that perfect sweet and savory combo. Ana can't resist the Vanilla Cream, with its velvety vanilla buttercream and a generous dusting of powdered sugar.
During our recent visit, we were excited to discover their seasonal donut, the Parent Trap, which was a nostalgic nod to the beloved movie. This donut was infused with creamy peanut butter, topped with cookies and cream, and crushed peanuts.
For those who prefer a health-conscious option, you can't miss the Paleo Chocolate Chip Sea Salt Donut. And if you're a cookie lover, they have some amazing cookies too.
Want to know if your favorite donut is already sold out for the day? Check out their donut cam.
Shipley Do-Nuts
Maintaining the personal touch
Although not originally from Nashville, Shipley's Do-Nuts is a must-visit destination for anyone craving a classic donut in Nashville. The chain was founded by Lawrence Shipley Sr. in 1936 and has since expanded to over 300 locations nationwide.
After savoring some of his favorite fried treats at a small shop in Paducah, Kentucky, Lawrence was inspired to pursue his passion for doughnuts. He dedicated several years to refining his recipe and ultimately opened his first doughnut shop in Houston, Texas.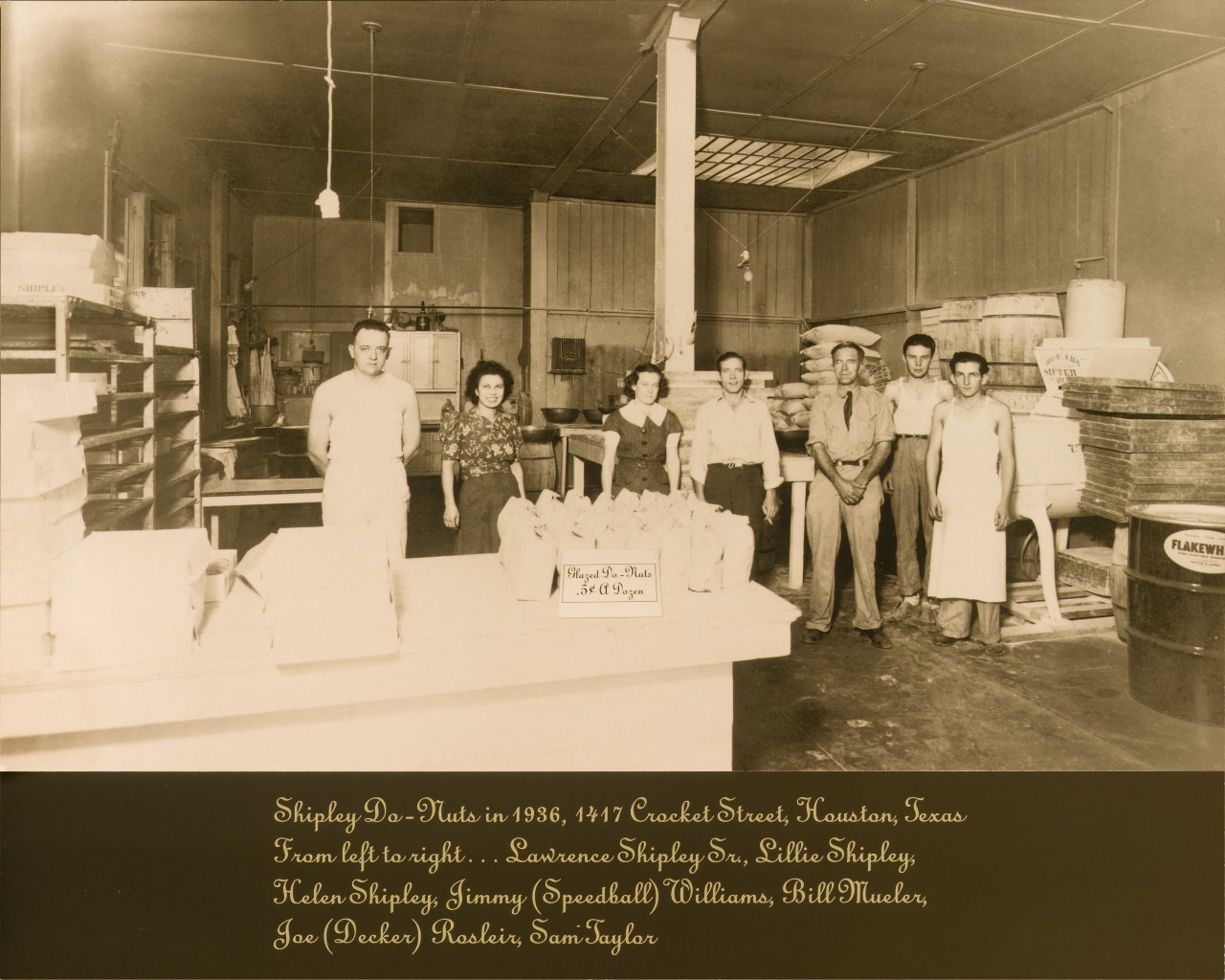 Even today, Shipley Do-Nuts is still run by the family and has been passed down through three generations. They continue to honor their legacy of creating delicious and fresh doughnuts every single day.
The Shipley's in Nashville is located in Donelson, about 10 minutes from Music City Legends
Notable menu items
Shipley's menu boasts a wide variety of treats that cater to almost everyone's taste buds. They have an assortment of classic donuts, kolaches, cakes, and their apple fritters are nothing short of amazing.
We've developed a few favorites, like the blueberry cake, the delicious glazed chocolate, and the cinnamon rolls that might require more than one sitting to conquer. Additionally, Kush is a big fan of the kolaches which remind him of pigs in blankets.
Check out the full menu here.
Parlor Doughnuts
The Parlor experience
Parlor Donuts is a boutique coffee and doughnut shop that takes its cues from the old-fashioned notion of a "parlor" – a room in a house where folks would gather to chat and build long-lasting relationships.
It was founded in 2019 by Darrick Hayden and Josh Tudela. Hayden thought up the idea while traveling the US with his son's band. After experiencing some of the best doughnut shops across the US, he knew it was time to make his own.
Darrick's travels across America inspired him to create a unique doughnut experience by introducing layered dough into his recipes. Parlor Donuts is known for its signature "Layered Doughnut", along with vegan, gluten-free, and Keto options.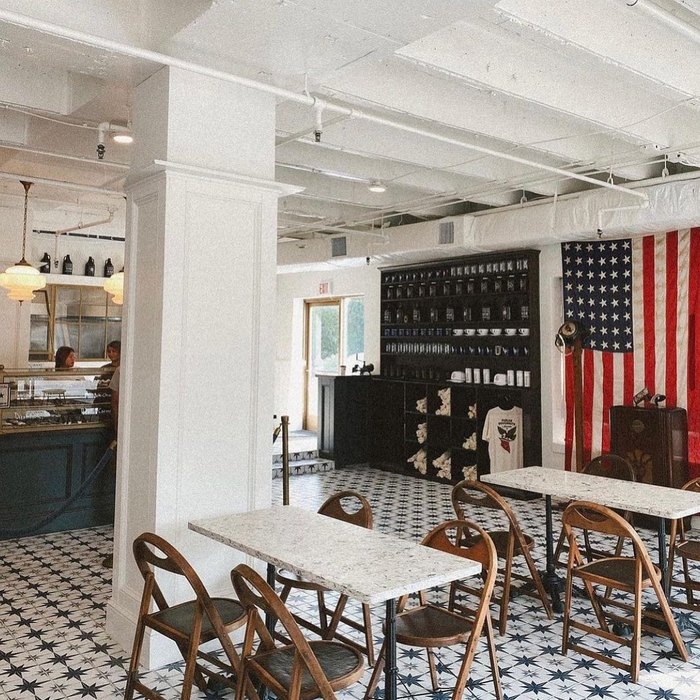 Rave reviews
If you're skeptical about Parlor Donuts due to their widespread popularity, just take a peek at the glowing Google reviews. Many rave that these are the best doughnuts they've ever tasted, citing their generous size.
If you're an adventurous foodie, Parlor Donuts has a lineup of must-try donuts in Nashville. Some favorites include the one-of-a-kind Churro, along with Bourbon Caramel, French Toast, Raspberry Pistachio, Dreamsicle, and Carnival.
Coffee enthusiasts won't be disappointed either, as their cold brew and iced matcha drinks are simply amazing. If you're not in the mood for something sweet, they also offer a selection of tasty breakfast tacos and sandwiches.
East Park Donuts & Coffee
A local favorite
East Park Donuts is a great visit for anyone staying in East Nashville and seeking beautifully crafted sweet and savory treats. As a locally owned gem, they take pride in creating cake-style donuts and brioches that are made fresh daily from scratch, using locally sourced ingredients from nearby farmers.
We love their hand-crafted coffee drinks, including their energizing espresso, which is perfect for starting off the day and getting you ready to explore the music city.
East Park Donuts has been racking up accolades in recent years, earning local awards such as Best of Nashville in the Nashville Scene, and Couple's Choice Awards in WeddingWire to name a few.
Donuts in Nashville that won't disappoint
What sets them apart are their unique signature cake donuts, such as the indulgent Chocolate Old Fashioned Sour Cream, featuring a rich chocolate sour cream donut with a hint of vanilla bean glaze. Another standout is the Blueberry Cake, made with a potato cake donut coated in a yummy wild blueberry glaze.
East Park Donuts' brioche is unique and one-of-a-kind. Some crowd pleasers include the Salted Brown Butter (which tends to sell out quickly) and the C.B.D Malted Chocolate infused with 15 mg of T.H.C Free C.B.D.
Last but not least, be sure not to miss out on the Blueberry Fritters with a tangy Lemon Drizzle or the tantalizing Orange Cream Cheese Cinnamon Roll.
Conclusion
As we come to the end of our exploration of Nashville's donut scene, it's clear that this city is a true haven for donut lovers. With its vibrant local food scene, there are abundant options for indulging in delicious sweet treats.
For bachelorette parties, we highly recommend checking out Donut Distillery or Five Daughters for a fun and memorable experience. And for family trips, Parlor, Shipley's, or East Park Donuts are perfect choices that are sure to please everyone.
Whichever donut spot you choose, you're in for a delightful adventure as you indulge in the best donuts Nashville has to offer. So go ahead and treat yourself to some delectable donuts in Music City!
What are your favorite donut spots in Nashville? Comment below and let us know!